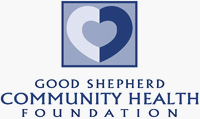 Our Foundation board is made up of business and private people from various backgrounds that are interested in the same things you are–including developing the quality of life in this region. Why not join with us by making a tax-deductible donation that will make a positive impact on you and the lives of many others in our community?
The Good Shepherd Community Health Foundation was formed in February 1995 as an agent of change. We strongly encourage local residents to give of themselves in support of organizations and causes that will promote the health and well being of our community.
Each year the Foundation recognizes such an individual or couple with 'The Spirit of Christmas Award.' Past recipients of this award are Rev. John Thurlow, Dennis and Cathy Barnett, Mel and Bonnie Phillips, Ric and Karen Sherman, Pat Wahner, Bill Whetzler, MilRoy Meyer, Mark Jones DMD, Alice Brewington-Dyer, Rod and Karen Bragato, Linda Gilleese, Dawn Large, Dr. Marvin John, Patty Echols, Dr. John Spomer, David and Jodene Hughes, Cliff and Judy Bracher, Ford Bonney,Kathie Mallory, Sandy Hickey, Jim Pursewell, Terrel Tovey, Sally Clemons, Charlotte Dack, Susan Jones, Laurie Ball-Kiser, David Florea, Mike Snyder, Erick Olson, and for 2016 Cathy Putnam and Virginia Miller.   Click here to view Good Shepherd Health Care System's Annual Report for fiscal year 2015-2016. (GSCH Foundation report on pages 8-9).  Click here to nominate someone for the 2017 Christmas Spirit Award.